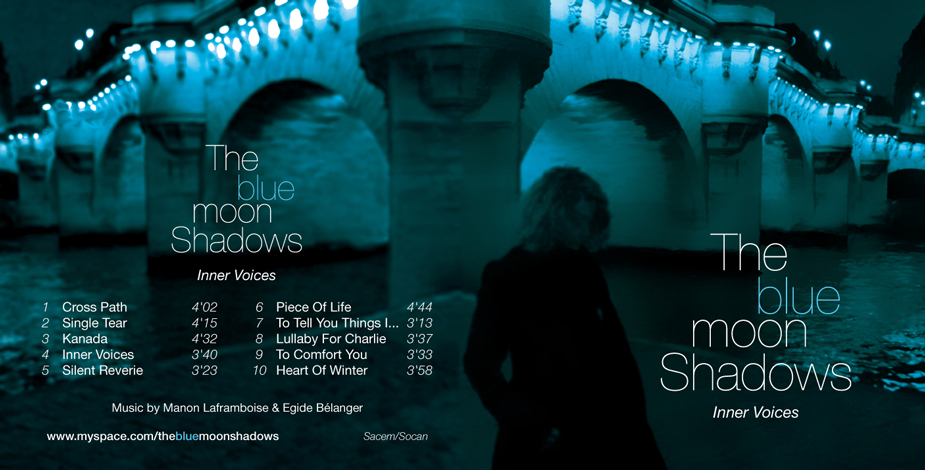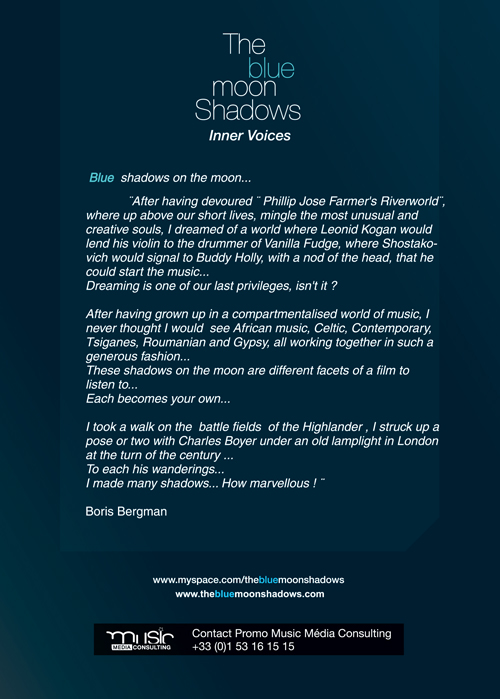 Artist :  The  Blue Moon Shadows  /   INNER VOICES
Voice  soloist  Manon  Laframboise    www.manonlaframboise.com

Choirs and  arrangements   Manon  Laframboise
Percussions  and  orchestrations for percussions  Luc boivin / Tapageur productions Brossard, P.Q.  CanadaGuitars  Simon  Godin
Guitars   Jean-François  Beaudet
Guitar  solo  Jean-marc  Barrault  on ``SingleTear``
Bass and keyboard     Egide Belanger excepted for  Kanada  E .Dubus
Strings  arrangements  E.Dubus, except track 2,4,9 Mathieu Alvado
Strings  Quartet
Violin  Tristan Lierh
Violin  Pauline  Mauret
Viola  Audrey Monfils
Cello  Clemence Ralincourt
Credits on ``Silent Reverie `` Ecole  de SAMAJAM``, P.Q Canada
Special thank to the 100 percussionists of Samajam`s school.
Special  thank  to Luc Boivin  for his passion  and  his faith in this album .
Special thank   to Boris Bergman for his  introduction about  this  album.
Special thank  to Jean-Philippe .
Tapageur  Studio , Brossard ,PQ.  Canada
3000 Studio,       Paris,  France
Copelia Studio , Paris, France
Localstudio,ing. Alain Ganne, France
Mastering    Michel Geiss
Producer  /  Egide Belanger / Manon Laframboise for  EB Music
Photo        /  Eric Parizeau
Artwork     /  David Blanchard
SOCAN / SACEM  E.B.MUSIC
 Contact   +33(0)667041246 /+33(0)143421164     thebluemoonshadows@gmail.com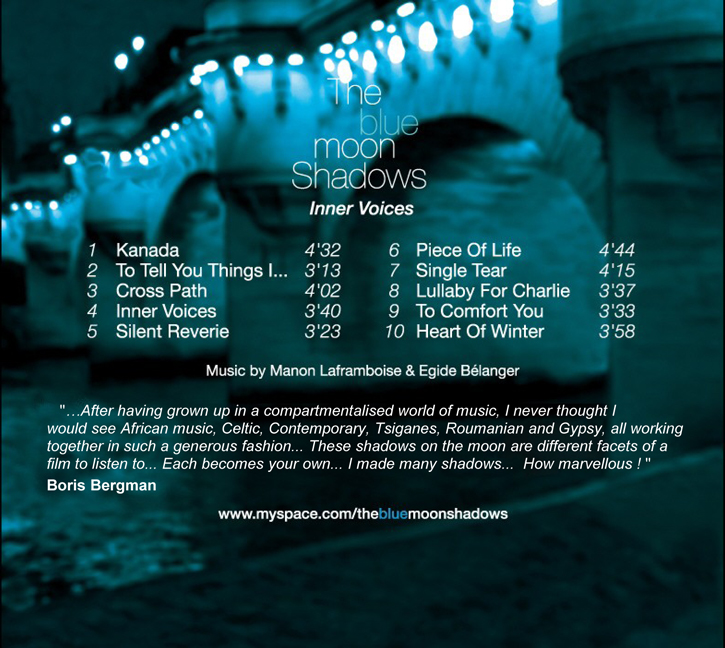 DISTRIBUTIONS `` THE BLUE MOON SHADOWS``

- National distribution   in  France  with  SOCADISC on Olivi music Réf . :  815231
-Digitale distribution ``ABSILONE``  with  ITUNES  international
- Virginmega.fr
http://www.virginmega.fr/musique/album/ombres-bleues-sur-la-lune-the-blue-moon-shadows-109543342,page1.htm
-Fnac.com ,
http://recherche.fnac.com/Search/SearchResult.aspx?SCat=0%211&Search=the+blue+moon+shadows+ombre+bleues+sur+la+lune&sft=1&submitbtn=Ok
Contact publishing :  Colove
8 rue de l'Est 92100 Boulogne-Billancourt Tél. : 01 46 05 52 39 - Fax : 01 46 05 17 65 e-mail : colette.moughli@wanadoo.fr
Contact prod : Egide Belanger egidebelanger@hotmail.com +33 (0)143421164 +33(0)667041246